Thirsties Duo Wrap Hook & Loop Diaper Cover Review
This post may contain affiliate links and we may earn commissions when you make a purchase through these links (at no extra cost to you). See our disclosure policy for more details.
Leak Free Diaper Covers for Cloth Diapers — All Your Questions Answered
Are you thinking about cloth diapering? Maybe you already use cloth diapers, but you're thinking about switching to flat diapers or prefolds.
I've always used pocket diapers, but recently made the switch to prefolds and, of course, had to consider which diaper covers to buy along with them.
We're here today to review the diaper cover we chose — the Thirsties Duo Wrap. Let's get started!
Never used prefold diapers before? If you're not sure how exactly they work, here's a video I found that will walk you through the process.
Take note that there are a number of different ways to fold them; this is just one of the ways.
As you heard in the video, prefolds and covers are an economical way to cloth diaper.
I started out with a dozen of these organic cotton prefolds and two diaper covers, which cost approximately the same amount of money as one large box of disposable diapers.
(Please note that you will need more than two covers; continue reading to find out exactly how many you will need.)
I ultimately chose Thirsties Duo Wrap diaper covers with a hook and loop closure because they had great reviews, and they looked like good quality covers. (Not to mention all the adorable patterns!)
Here's a pic of my toddler in the Thirsties Duo Wrap in Stargazer!
Today, I want to share my thoughts on this diaper cover and answer any questions you might have.
In my review, we will cover the following topics:
Do these diaper covers leak?
How many diaper covers do I need?
What size diaper cover do I need?
How do you use a hook and loop diaper cover?
Which is better: snaps or hook and loop?
How do you use a hook and loop diaper cover?
How do you clean a Thirsties Duo wrap?
Do Thirsties Diaper Covers Leak?
As their website states, Thirsties Duo Wrap diaper covers are waterproof, but they're also very comfortable and breathable. So…are they really leakproof?
These diaper covers are designed with leg gussets for advanced leak protection.
Of course, if you wait too long to change your heavy wetter, you'll likely have a little bit of leaking. We have had one or two leaks for this reason.
And you'll want to make sure the absorbent part is completely tucked into the cover.
Otherwise, they do a phenomenal job of holding everything in.
How Many Diaper Covers Do I Need?
Since you can wipe the covers clean and reuse them throughout the day, you don't need to buy the same number of diapers and covers.
We generally use the same cover all day long, wiping it down and drying with a clean cloth during each diaper change.
*Update: I have switched to alternating two covers all day long, wiping each clean and hanging to dry until the next change. The reason: Even after wiping it clean and drying with a cloth, they still smelled pretty awful by the next change!
Although I only started out with two of the Thirsties Duo Wrap covers, the recommendation is to buy one for every 3-4 diapers.
Since I only have two covers right now, I have to supplement with a few of my remaining pocket diapers while the covers are in the wash.
Eventually, I'll need to order a couple more diaper covers, though, because my pocket diapers are nearing the end of their lifespan. 🙁
What Size Diaper Cover Do I Need?
Thirsties Duo Wraps come in a couple of different sizes. For newborns, you will need Size 1  which fits babies from 6-18 lbs. Size 2 fits babies and toddlers from 18-40 lbs.
Below is a photo of my 25 pound toddler wearing the Thirsties Duo Wrap in Elefantabulous (which doesn't appear to be currently available on Amazon) in a size 2.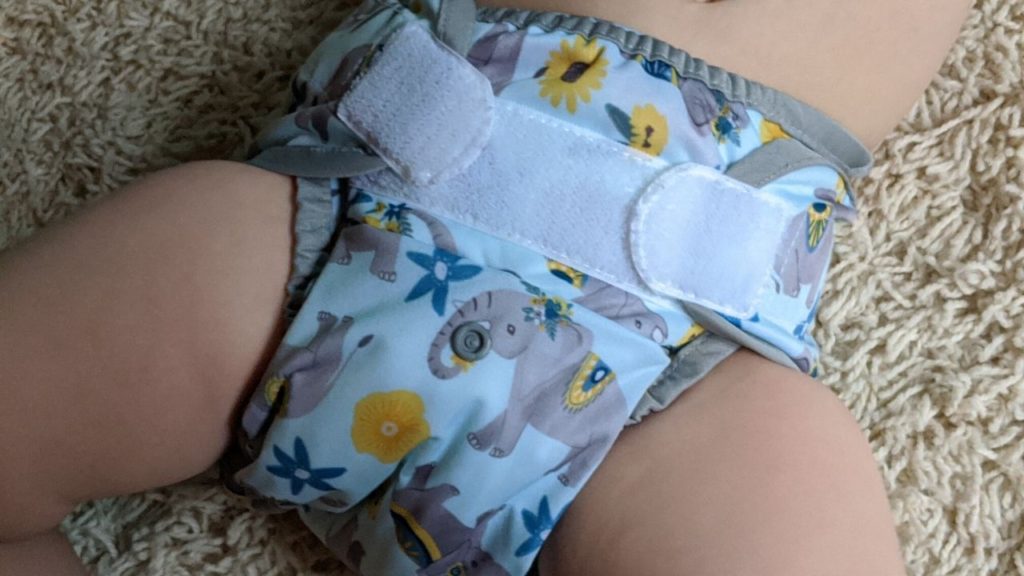 Which is Better: Snaps or Hook and Loop?
Thirsties Duo wrap diaper covers come in both snaps and hook and loop. So, which type of closure is better?
Some people swear by the snaps, and others prefer hook and loop.
While snaps have their pros and cons, I like the hook and loop closure. It's quick and easy for a wiggly baby or toddler — and you can get a more custom fit.
Snapping a diaper onto a moving child can be done, but it takes skills!
Hook and loop can be scratchy, but we've never had a problem with this particular brand scratching our daughter.
If you're still not sure, though, I'd suggest trying some of each to see which type of closure works best for you.
How Do You Use the Thirsties Duo Wrap?
The Thirsties Duo Wrap hook and loop diaper cover works with any prefolds, flat, fitted, or even an insert.
Adjust the diaper cover size before putting it on your baby. For larger babies, you can leave the snaps open; for smaller babies, you can close the snaps to whatever size fits your baby.
Simply lay it under the baby, close the diaper, and fasten with the hook and loop closure. Then you're good to go!
You can also watch the video below to see how it's done.
How Do You Clean a Thirsties Duo Wrap?
Before using them for the first time, wash your diaper covers at least once with a cloth diaper safe detergent.
Cleaning cloth diapers and covers is as simple as washing laundry. I like to do a quick pre-wash using only cold water (no detergent) before the main wash.
Then choose a HEAVY cycle and choose HOT water (no hotter than 130 degrees Fahrenehit) for the main wash, making sure there is enough water to cover your diapers.
I also like to do an extra rinse and spin after the main wash. You can hang your diapers and covers to dry or put them in the dryer on low heat.
Hanging them in the sun is great for removing stains and disinfecting, but avoid leaving them out too long (or drying on high heat) because it can damage the elastic, hook and loop, and the laminate.
Thirsties Duo Wrap Review
There is a slight learning curve when switching from pocket diapers to prefolds and covers.
All-in-ones and pockets are incredibly easy to use.
BUT…
Once you've used them once or twice, prefolds aren't as intimidating as they seem. Plus, they are much more budget-friendly, and you don't have to "stuff" diapers after washing.
Thirsties Duo Wrap hook and loop cloth diaper covers come in a variety of colors and patterns, and they are virtually leak-proof. You can wipe them during diaper changes and use the same cover all day.
*Update: As I mentioned above, I have switched to alternating two covers all day long, wiping each clean and hanging to dry until the next change. Hanging them to dry helps keep the odor to a minimum!
And if my daughter poops, or if the the cover starts to smell like urine, I simply grab a new cover and throw the dirty one in my wet bag.
Wondering where you can buy Thirsties? You can order these diaper covers on Amazon in both Size 1 (6-18 lbs) and in Size 2 (18-40 lbs).
Related Content:
How to Choose the Best Diaper Covers for Babies + Toddlers
Prefolds vs. Pocket Diapers: Which Cloth Diapers are Best? 
Are Cloth Diapers Worth It? Pros and Cons of Cloth Diapering