How to Choose the Best Diaper Covers for Babies + Toddlers
This post may contain affiliate links and we may earn commissions when you make a purchase through these links (at no extra cost to you). See our disclosure policy for more details.
Everything You Need to Know About Cloth Diaper Covers for Prefolds, Flat, and Fitted Diapers
Intimidated by the thought of using prefolds and diaper covers for your baby or toddler? It's not as scary as it seems, I promise!
We started out with pocket diapers and, until recently, that is the only type of cloth diaper we had ever used.
Pocket diapers are really easy to use, with just one hangup — I can't stand "stuffing" them after they come out of the wash.
So I thought I'd give prefolds a chance. There is a slight learning curve when you first start out, but it's actually not all that complicated.
Really!
You don't even have to mess around with fasteners if you don't want to. Simply tri-fold the diaper and place it inside the cover. And when they come out of the wash, all you have to do is put the diapers away — no stuffing necessary.
Check it out! Here's a picture of my daughter rocking her Stargazer cloth diaper cover.
Whether you're brand new to cloth diapers or you just want to update your cover collection, this guide will help you choose the best baby diaper covers for your child.
First of all…
What are Cloth Diaper Covers?
In short, diaper covers provide a thin, waterproof layer that acts as a protective barrier between the cloth diaper and baby's clothes.
Not all cloth diapers require a cover. Some — pocket diapers, for instance — already have a built-in waterproof layer. Flat diapers, prefolds, and fitted diapers are a few types that require covers.
Baby diaper covers are a lot different than they were years ago. We have a choice in style, fabric, closure type, size, and so on. Let's discuss this a little further, then we'll figure out how many covers you need.
Related: Review of Thirsties Duo Wrap Diaper Covers for Prefolds, Flat, Fitted Cloth Diapers
Choosing the Best Diaper Covers for Babies + Toddlers
It would be great if you could try a bunch of different diaper covers on your baby or toddler and decide which you like best. Unfortunately, that can be time-consuming (and expensive).
A few things to consider:
your budget
cover style
material type
baby's age
type of cloth diaper
closure type
leg gussets (or not)
My goal is to help you figure out what exactly you want in a baby diaper cover so you can make a decision that you won't regret. Here's the lowdown on style, fabric, and closures.
Styles of Baby Diaper Covers
There are several different types of diaper covers for babies: wrap, side snap, and pull on.
1. Wrap
This is a type of diaper cover that has snaps or velcro (hook and loop) in the front. You can use flat, fitted, or prefold diapers with a wrap style cover. With a prefold, you can either fasten the diaper onto your baby or simply tri-fold it and place inside the wrap.
2. Pull on
A pull on diaper cover works like a pull up; it slides up over baby's bottom. With this type of diaper cover, you'll need to fasten the diaper before pulling the cover up — this requires either a fitted diaper or a prefold with a fastener.
3. Side snapping
This type of diaper cover has snaps on the left and right sides of the cover, and they don't fit as snugly as the wrap style. If you choose this type, you'll need to buy multiple sizes as baby grows to avoid leaking.
Below is an example of a wrap style cover with a hook and loop closure.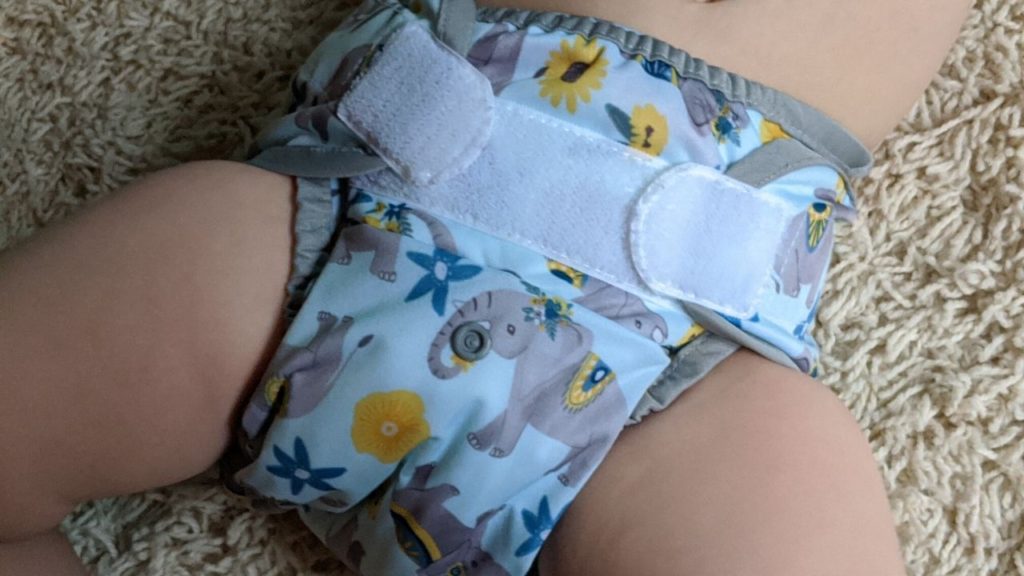 Fabrics Used for Baby Diaper Covers
There's a number of different materials to choose from. My top recommendations are PUL and nylon, but here's a breakdown of all the different types of materials.
1. PUL (polyurethane laminate)
Polyurethane laminate is a type of coating that is applied to the diaper cover, creating a durable, but breathable, waterproof barrier between the cloth diaper and baby's clothing.
This type of cover can be washed in hot water with your diapers, and you can even dry them on low heat. The only drawback is that it can retain odors over time.
2. Vinyl
Vinyl is no longer a common material for diaper covers because it's not very durable is not breathable (think hot and sticky). Vinyl cracks and breaks down easily.
3. Waterproofed nylon
Waterproofed nylon is not as common as PUL, but is a more popular choice than vinyl. While it does have to hang dry, nylon can be washed with your diapers, and it's both waterproof and breathable. It does not retain odors.
4. Wool
Wool is a natural, breathable (water resistant but not waterproof) fabric that can be used for baby diaper covers, and is a very common overnight diaper cover.
Laundering wool diaper covers can be a little more tricky, though, since they need to be hand washed and lay flat to air dry. They also need to be lanolized (coated with lanolin) to make them water resistant.
5. Fleece
Fleece is a synthetic material that is durable and machine washable. Fleece is known to wick moisture away from baby's skin, although it can pull it through to the clothing. Like wool, fleece is water resistant, not waterproof.
Snap vs. Hook and Loop Closures
Which is better? It's really a matter of personal preference.
While hook and loop (often called Velcro) can be scratchy, I like the fact that I can get a custom fit for my toddler.
(And we've never had issues with Thirsties Duo Wrap diaper covers scratching our daughter, while some of our velcro pocket diapers have been known to cause such problems.)
Snaps can get a little tricky if you have a toddler on the move! But on the plus side, snaps don't stick to everything in the laundry.
What are Leg Gussets?
When a cloth diaper cover says it has "double gussets", it means that there is an extra layer of elastic around the legs for advanced leak protection.
This photo shows what it looks like when a diaper cover has double leg gussets.
How Many Diaper Covers Do You Need?
The general recommendation is to buy one baby diaper cover for every 3-4 cloth diapers. You do NOT need to buy the same number of diapers and covers.
The reason you can get by with fewer covers? During diaper changes, you can actually wipe the cover down and reuse it. You can either use one cover all day long, wiping it clean and drying with a clean cloth, or you can alternate between two covers, wiping and hanging each to dry until the next diaper change.
For a newborn, you might want to start out with two dozen cloth diapers and 6-8 covers. For a toddler, you could likely get by with one dozen diapers and 3-4 covers (although I would suggest a minimum of 4 covers).
You will want to wash your diapers and covers every two days, or three days max.
What are the Best Cloth Diaper Covers?
There are a lot of great baby diaper covers to choose from, so it's very much a matter of personal preference. And there's no rule that says you have to only choose one! Some cloth diapering families swear by wool covers for overnights.
We decided to try Thirsties Duo Wrap diaper covers for our toddlers, and they have worked really well. Here's why we love them:
only need two sizes from birth to potty trained
100% polyester with TPU laminate
double leg gussets for advanced leak protection
option of snap or hook and loop closure
wrap style for a custom fit
lots of adorable patterns!
Related: A Review of the Thirsties Duo Wrap Hook and Loop Diaper Cover
Where to Buy Them
Check out Thirsties Duo Wraps on Amazon:
Thirsties diaper covers for newborns – size 1 (6-18 lbs)
Thirsties diaper covers for toddlers – size 2 (18-40 lb)
Concluding Thoughts on Diaper Covers for Babies
So, what have we learned? This post explained what a baby diaper cover is, as well as what you need to consider when choosing a diaper cover for your baby or toddler.
We learned about leg gussets, and we figured out how many diaper covers to start out with. I also shared my diaper cover recommendation, along with a link to my review of the Thirsties Duo Wrap cloth diaper cover.
What else do you want to know about choosing the best diaper cover? Are you ready to get started with cloth diapering yet?
If you have any comments or questions about choosing cloth diaper covers for babies or toddlers, let us know in the comments section below!