24 Awesome STEAM Kits for Kids Age 3+
This post may contain affiliate links and we may earn commissions when you make a purchase through these links (at no extra cost to you). See our disclosure policy for more details.
Green Kid Crafts STEAM Activity Kits Breakdown + Save the Bees Box Review
Looking for STEAM kits to keep the kids engaged in fun, educational activities this summer (or whenever you need a little quiet time)?
Look no further!
Today, I'm sharing a list of awesome STEAM activity boxes in a variety of themes geared toward kids ages three and up.
I've partnered with Green Kid Crafts to bring you this resource, along with a detailed review of one of their newest theme boxes. (Spoiler alert: They are coming out with an additional 25 themes for subscribers!)
Without further ado, let's talk briefly about what STEAM means and what you can expect in these kits before we move along to the list.
What Does STEAM Stand For?
First of all, what is STEAM? STEAM is an approach to education that utilizes Science, Technology, Engineering, the Arts, and Mathematics.
The difference between STEM and STEAM is simply the addition of the Arts: language arts, humanities, drama, dance, music, visual arts, new media, and design.
What Are STEAM Kits for Kids?
STEAM kits, such as those designed by Green Kid Crafts, contain projects for kids that stimulate critical thinking and encourage growth of the "whole child".
Each kit usually revolves around a theme and contains at least a few different activities. You can either subscribe to a monthly kit delivery or select kits based on themes of interest.
In the next section, we will cover some of the kit themes that Green Kid Crafts offers.
24 Themed STEAM Kits
Each of the following kits is filled with 4-6 fun science and art projects for kids age three and up.
1. Around the World
Your kiddos can travel Around the World with projects inspired by six different countries: 
Japan
India
Africa
Guatemala
Australia
China
And as a bonus, they will receive holiday recipes from the different countries and a Sticker Passport Book.
2. Art Lab
The Art Lab contains six different art projects inspired by famous artists. Kids will try their hands at Batik, pulled yarn prints, and even making their own rubber stamps, among other activities that they can tinker and play with afterward.
3. Slime Lab
Learn how to make four different kinds of slime with the Slime Lab! Materials are included for black chalkboard slime, glow-in-the-dark slime, and fluffy slime, as well as slime fish and glow worms. 
Plus, they'll stay busy for a long time afterward simply playing around with their creations!
4. Sweet Science
There are six different activities in the Sweet Science box that will get your kiddos excited to explore the properties of sugar. They'll have a blast with crystal creation, gummy bear osmosis, Pixy Stix sand art, an M&M solubility experiment, and fizzy fun.
5. Dinosaur Activities
Your little paleontologists will "dig" this dinosaur themed box, which includes materials for creating their own dinosaur habitat, fossil imprints, and more.
6. Solar System
Kiddos age three and up will enjoy exploring the solar system with this fun activity kit! While exploring different planets, galaxies, and astronomy, they will develop creativity, problem-solving skills, and observation skills.
7. Rainbow Science
The Rainbow Science Box contains fun projects to help kids learn what a rainbow is, how it's formed, and why the colors have a certain order.
If you're interested in this theme, you might want to read our full review of the Rainbow Science box here before purchasing it.
8. Amphibians
Want to learn more about frogs, newts, toads, or salamanders?
With the Amphibians Box, kids will explore and discover these crawly critters through hands-on projects in the following areas: 
Grow your own lotus
Frog life cycle
Lily pad art project
And so on
9. Endangered Animals
Do you have animal lovers in the family? The Endangered Animals kit teaches the little ones about some of the coolest animals, which also happen to be an endangered species, such as elephants, tigers, and gorillas.
10. Feathered Friends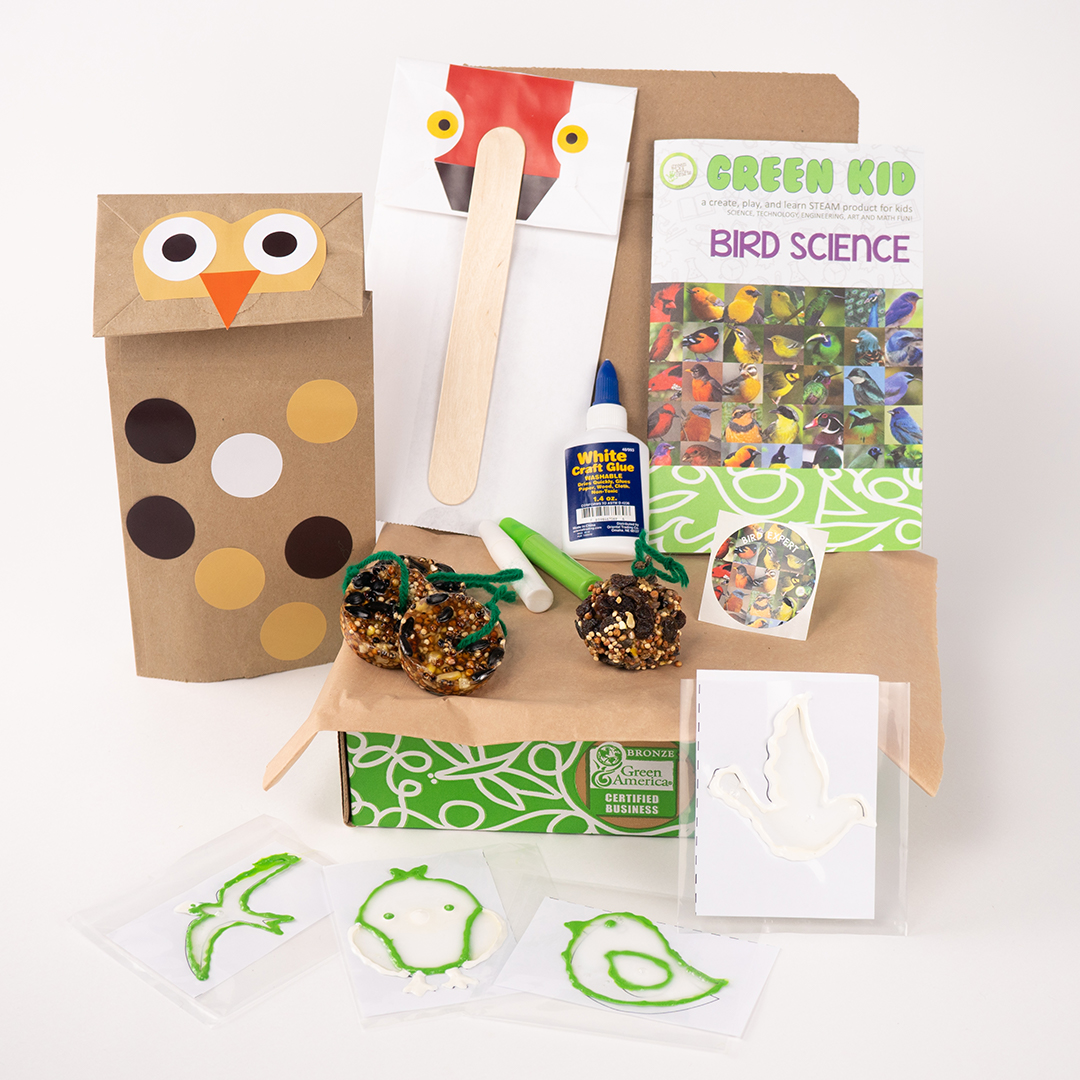 With the help of the Feathered Friends box, kids can make bird feeders, bird protecting window clings, and more – all while learning about different kinds of birds, from the songbirds to waterfowl, to raptors, and more!
11. Botany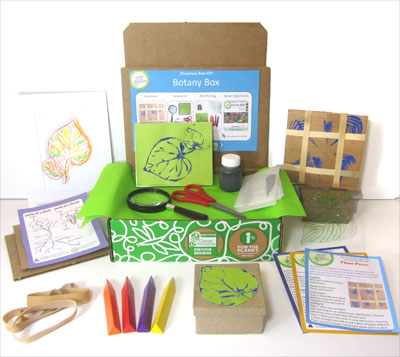 Through hands-on projects, the Botany Box teaches young botanists how plants work, all the way from seed to tree. It includes four fun projects: 
DIY Plant Press
Botanist Kit
Herbarium
Plant Printmaking Kit
12. Color Science
Do you have a little one who's interested in color theory? Check out the Color Science Box! Kiddos age five and up will learn all about color with these five activities: 
Spin Art Kit
Absorption Science Kit
Color Mixing Kit
Blending Colors Canvas
Homemade Paint Kit
And more!
13. Weather Science
With the help of the Weather Science box, your child can become a mini meteorologist! They'll have a blast creating their own weather instruments, as well as tracking and measuring the weather patterns using their handcrafted tools.
14. Mad Science
This one is great for kids three and up! Mad Science includes four fun projects: a fizzy lamp that teaches about density, sensory slime monsters, a magnet friend that teaches about the properties of magnets, and more.
15. Numbers Lab
The Numbers Lab was designed to inspire young mathematicians. This sensory box teaches counting, number recognition, and matching and patterns. It contains the following fun learning kits: 
Playdough Kit
Telling Time
DIY Flashcards Kit
Counting Games
And more!
16. Volcanoes
For ages 2+, this Volcanoes discovery box celebrates thinking, questioning, and original creation with fun and creative projects such as an Exploding DIY Volcano, Crystal Making Kit, and more!
17. Kitchen Science
With the Kitchen Science kit, kids will explore science using everyday household products such as baking soda and vinegar. Using everyday items, they will make homemade soap, fizzy bath bombs, and a volcano.
18. Robot Workshop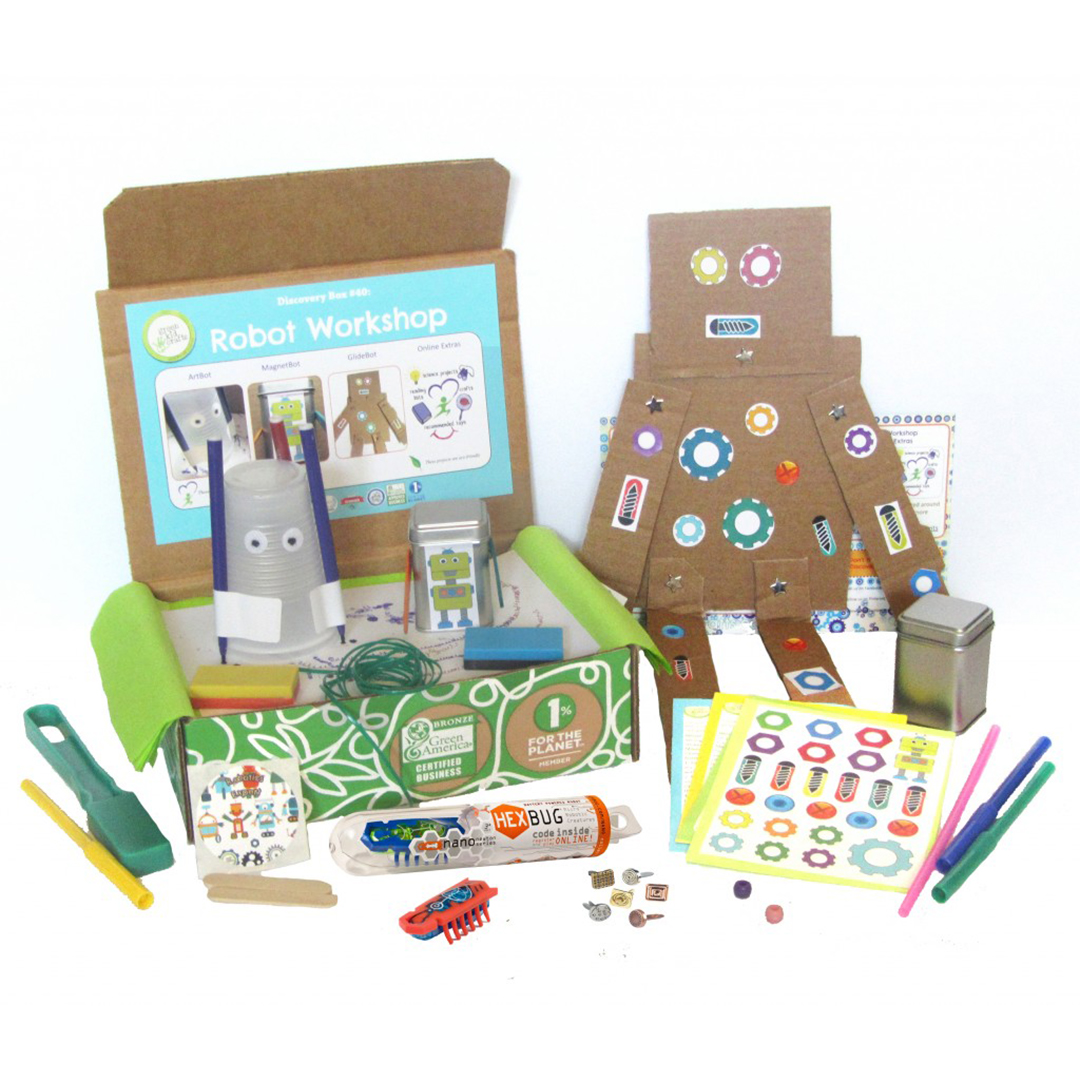 This Robot STEAM kit includes FIVE award-winning projects for kiddos age 3+ (such as creating their own Artbot to make artistic swirls!). These activities will get the kids thinking, questioning, and tinkering for hours after making their initial creations.
19. Gemstone Excavation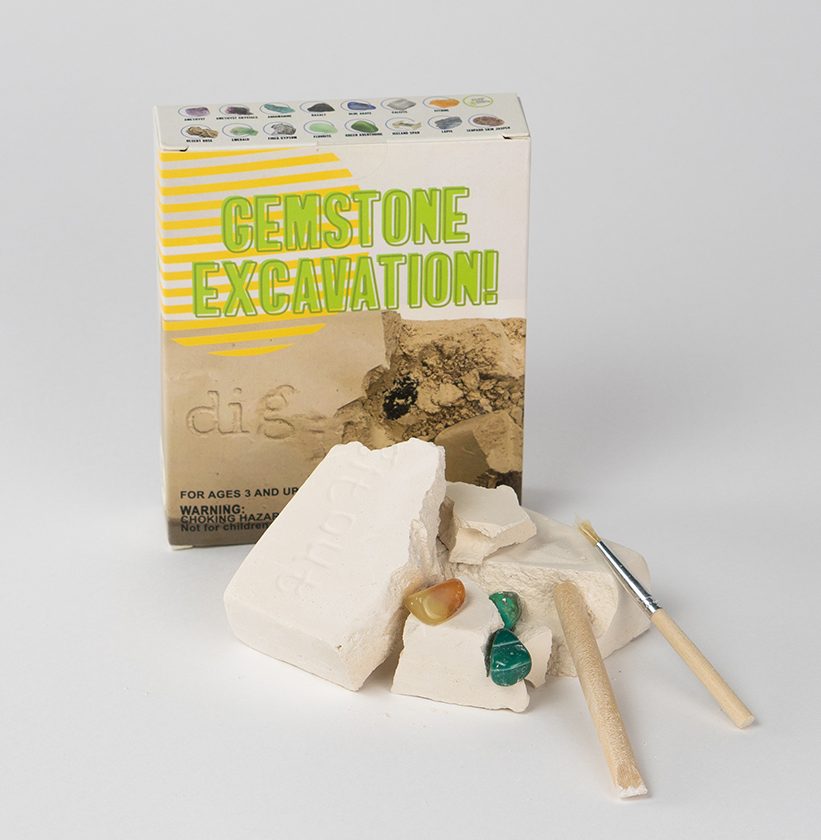 Let your kiddos embark on their own archaeological dig – they're guaranteed to find semi-precious gemstones, and they will be able to identify them using the full color identification guide included in the Gemstone Excavation kit!
20. Hexbug Nano Robot
Check out the HEXBUG Nano Robotic Bug! This tiny robot will fool humans and critters alike into thinking it's a real bug as it scampers and scurries about.
21. Down on the Farm
For little ones age two and up, Down on the Farm explores matching and patterns, fine motor skills, and more. 
In this box, you'll find the following projects:
Barn and Animals on the Farm Kit
Farm Community Sticker Scene
Farm Lacing Craft, Felt Carrot Counting Game
Nose-on-a-Stick Pretend Play Craft
22. Reptiles
The Reptiles box teaches kids about these scaly critters, while developing age-appropriate learning skills, through hands-on play:
Mosaic Turtle Poster Kit
Articulated Wooden Snake Kit
DIY Hanging Doorknob Lizard
Felt Counting Crocodile Kit
23. Rainforest Science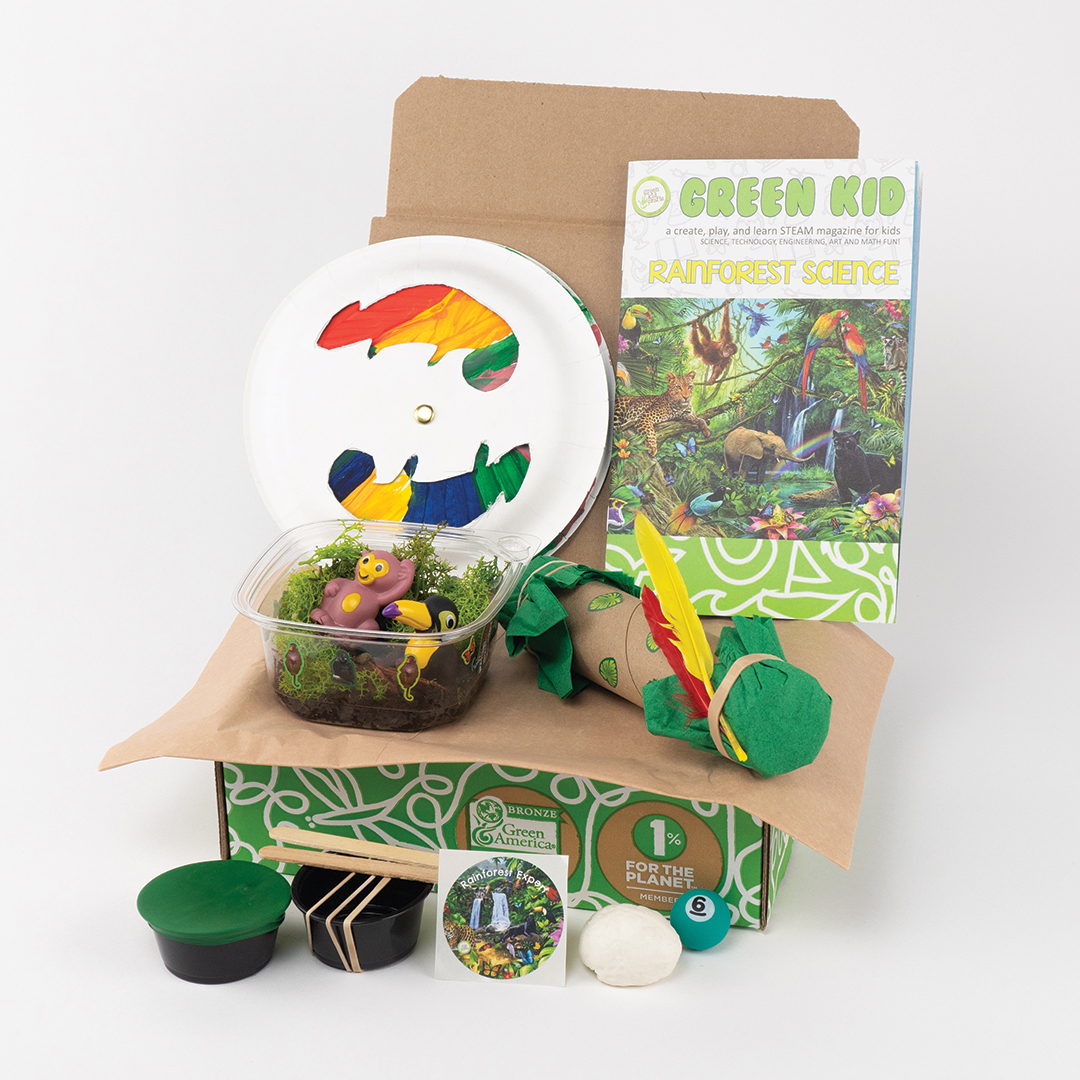 Take your kids on a journey through the Rainforest with activities designed by experts to build confidence, flex creativity, and make them smarter.
Kids will:
Create their own bouncing rubber ball
Learn about the science of sound by creating their own rainstick, jungle drums, and string-a-ling
Conduct a rainforest pollution experiment
Build a rainforest terrarium
Make cookies using ingredients found in the rainforest
24. Safari STEM Activities
Designed for kids from ages two to eight, the Safari STEM box teaches about the different types of safari habitats through scratch artboards and safari stencils.
With the help of this kit, kids will also create their own set of safari animal tracking ID cards, explore animal migration, and discover the dangers of quicksand (by mixing up a real quicksand pit and rescuing animals from it!).
25 New Green Kid Crafts Themes
Great news! In addition to the 24 boxes listed above, Green Kid Crafts is coming out with 25 new themes, available to their subscribers.
They sent us their new "Save the Bees" kit to review, which arrived in their signature green colored box.
Inside, we found four fun bee-themed projects, along with a mini magazine containing instructions for each activity, interesting bee facts, and additional activities.
My five- and three-year-old daughters were thrilled to make a bracelet that spells out: "save the bees"!
They especially enjoyed making a beehive craft, along with some pom-pom bees. The bees were a hit – they played with them for quite a while afterward.
Next up was a cute wind chime craft. One of my daughters painted the front of the wooden bee, while the other painted its back, and then we hung chimes from it.
Our final project involved planting sunflower seeds in a biodegradable container that was provided with the kit. We set it in a window on the sunny side of the house, and 5-6 days later, we had a few sprouts!
Now, let's see if we can manage to keep them growing….
SHIPPING FAQS
Wondering where Green Kid Crafts ships to? (Within the United States AND around the world!)
Or what the cost is? (Free within the United States!)
You can find the answers to all of your shipping questions here, along with any other questions you might have – such as changing your address or their return policy.
Conclusion
I know just how great kids are at learning through play – I am seriously impressed with their ingenuity at times – BUT… They absolutely love having activities planned out for them, as well.
At least, I know that my girls do!
Done-for-you STEM and STEAM kits are the perfect solution for busy parents who want to keep their kiddos occupied with educational activities.
Which of the STEAM kits would your kids enjoy the most? Have you tried any of these craft boxes yet?
You might also enjoy:
We Craft Box Review: A Themed Craft Subscription Box for Kids
11 Fun Ideas to Keep Toddlers Busy When You're Stuck Inside
5 Toddler Craft Subscription Boxes (That Busy Moms Will Love!)