Get a Good Night of Sleep On a Puffy Mattress
This post may contain affiliate links and we may earn commissions when you make a purchase through these links (at no extra cost to you). See our disclosure policy for more details.
We all want to wake up feeling refreshed and full of energy every morning, don't we?
Whether you're a sleep deprived parent of young children or you can't get a good night of sleep because of a bad back, I think we can agree that a good night's sleep is the key to waking up feeling refreshed in the morning.
I recently discovered Puffy, a bed-in-a-box mattress company, and partnered with them to help share the word about how you can get a better night's sleep and feel rested when you wake up.
Because if you aren't sleeping well, it's really hard to be your best self during daytime hours, wouldn't you agree?
As most of my regular readers already know, I have two little girls — an almost four-year-old and an 18 month old.
Often, both girls snuggle up in bed with us, so I find myself waking frequently during the night (or early in the morning when my husband gets up for work).
So, when I do sleep, it's crucial that I'm getting the best quality sleep possible.
How do you know if you're due for a new mattress? Let's talk about a few signs that your current bed is at the end of its lifespan, and then I'll break down the mattress options that Puffy offers.
And if you stick around till the end, I'll even share a few additional tips for getting a better night's sleep on your new mattress.
How can you tell if you're due for a new mattress?
Just because you can use the same mattress forever, it doesn't mean you should. Wondering if it's time to replace your mattress for a new one? Here's how you can tell.
You don't remember the last time you replaced yours. (They actually don't last forever!)
There's obvious sagging, lumpiness, or impressions that don't go away.
You have active allergies and your symptoms worsen at night.
You wake up with a sore back and don't feel well-rested.
You find yourself tossing and turning all night because you're sore, hot, or otherwise uncomfortable.
Once you decide it's time for a new mattress, it can be hard to know where to begin. Are you the type to try out every single mattress in the showroom? Do you research online, then research some more?
How can you determine which is the perfect mattress for you?
The thing I love about Puffy is that no matter your sleep style — back, stomach, or side — you will feel like you're sleeping on a cloud when you sleep on a Puffy mattress.
It has two layers of body adapting foams that work together to remove body heat and relieve all of the pressure at pressure points.
When you sleep on a Puffy mattress, your blood is able to circulate better, giving you a more restful night of sleep — and more energy when you wake up in the morning.
I also love that these mattresses are manufactured in an environmentally friendly way using a superior quality, non-toxic foam. The mattresses are made in the USA, and Puffy fills each order on demand.
If you're not already sold on the Puffy mattress, here are a few more things to love about it.
Key features of the Puffy mattress that will help you get a good night of sleep:
You can place it on any surface.
It provides enhanced spinal alignment.
It's stain-resistant and has a removable, washable zip-up cover.
You get a 101 night sleep trial.
Your mattress ships free to your doorstep.
There is climate-adaptive regulation (no more night sweats!).
You won't disturb your partner if you move around during the night.
You have a few mattress options, but not so many that you'll feel overwhelmed.
There are three different options — the Puffy Mattress, Puffy Lux, and Puffy Royal — and all three come in the following sizes:
Twin
Twin XL
Full
Queen
King
Cali King
Now, let's go over the key features of each style.
The Puffy Mattress is at the lowest price point, the Puffy Lux is mid-priced, and the Puffy Royal is at the highest-end price point. Naturally, the bigger the mattress, the price increases accordingly.
All three mattresses are designed for everyone — no matter your sleeping position — to get a good night of sleep.
They are breathable and have cooling features.
All three come with removable stain resistant covers, so you can wash them as needed.
However, there are a few key differences in the Puffy Lux and Puffy Royal.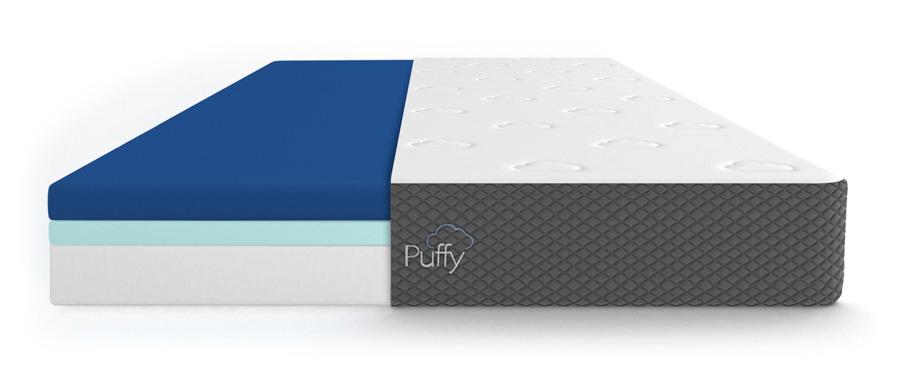 The Puffy Lux is made with "cooling cloud foam" and "body adapting dual cloud foam", which work together to help minimize the strain on your body's pressure points.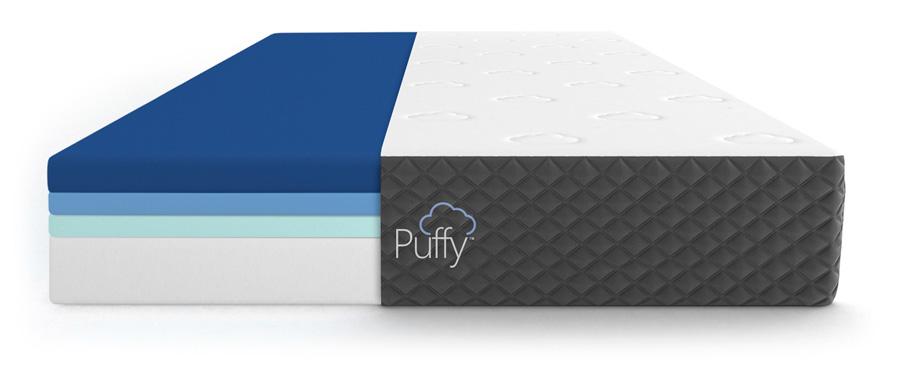 The Puffy Royal has more advanced features for the best night's sleep possible:
Its top layer is infused with cooling beads to reduce heat retention.
There is just enough reflexive bounce to relieve stress while you sleep.
It's designed to minimize heat absorption and create steady airflow throughout the entire mattress.
It has a multi-directional 5 layer system for customized spine support + a softer feel for head, neck, shoulders, and feet.
So, which is best of these three Puffy mattresses?
The standard Puffy Mattress is a great choice if you are on a smaller budget but want a better night's sleep.
Puffy Lux's cloud foam will further minimize strain on the body for more advanced comfort.
And if you're a really hot sleeper, the Puffy Royal is the best choice to help you stay cool at night.
Still not sure which of these three Puffy mattresses best fits your needs? Read my Puffy mattress buying guide, where I further explain each mattress and walk you through your mattress selection.
Besides investing in a high quality mattress, what are some ways you can get a good night of sleep?
In addition to buying a premium quality bed, there are numerous ways you can get a good night of sleep.
1. Exercise regularly.
Regular exercise can help you get a good night's sleep. If possible, work out early in the day, and try gentle stretching or yoga in the evenings.
2. Avoid caffeine in the evenings.
Avoid consuming caffeine late in the day to get better quality sleep. You might be able to fall asleep after drinking a cup of coffee, but you probably won't feel well rested when you wake up in the morning.
3. Limit blue light exposure.
Reduce blue light exposure in the evenings. This means turning off the TV and putting your cell phone away an hour or two before bedtime. (Easier said than done, though, right?)
If you absolutely can't bring yourself to put down the phone before bed, try out some blue light blocking glasses, which have filters in their lenses to block blue light from getting through.
So if you wear them while looking at a screen — especially after dark — they can reduce your exposure to the blue light waves that keep you awake.
4. Let in natural light.
Open up the curtains to increase bright light exposure during the day. Consider blackout curtains to block out light pollution at night.
5. Adjust the thermostat.
Adjust the thermostat to a cooler temperature at night.
These are just a few of the many ways you can sleep better and wake up feeling refreshed in the morning.
If you're doing all those things and more, but you're still not sleeping well, it could be that your mattress is at the end of its lifespan.