Is the Solo Stove Bonfire Worth It?
This post may contain affiliate links and we may earn commissions when you make a purchase through these links (at no extra cost to you). See our disclosure policy for more details.
"Is the Solo Stove bonfire worth it?"
The Solo Stove is designed with a patented airflow system, and is a top rated wood burning stove.
If you're in the market for a new fire pit, you might be wondering if the Solo Stove bonfire is really worth the higher price tag.
After all, they claim that it's a portable, smokeless bonfire pit that will last a lifetime. You're someone who loves spending time around a campfire, but hate dodging the smoke, so this fire pit sounds like it was made for you. Right?!
It simply sounds too good to be true, so you're wondering…is the Solo Stove bonfire worth it?
I think so, but it really depends on how much you're going to use it.
We bought our bonfire pit shortly before making a big move, and only used it a handful of times before we ended up having to put it in storage. Now, we are finally settled into our own home again, and I'm looking forward to spending many summer evenings sitting around the bonfire.
In this article, I'm going to answer some of the most commonly asked questions about the Solo Stove bonfire fire pit so you can decide for yourself whether it's worth the investment or not.
Here is what we will find out:
What is the Solo Stove?
Is the Solo Stove bonfire big enough?
Will it keep you warm?
Can you cook on a Solo Stove bonfire?
How is the Solo Stove smokeless?
Can I leave my Solo Stove outside?
How do you clean a Solo Stove bonfire?
Is the Solo Stove bonfire worth it?
What is the Solo Stove?
The Solo Stove is best known for its unique design that maximizes airflow and the burning process for a more complete burn with little to no smoke.
This bonfire pit is:
portable
log friendly
low smoke
durable
stainless steel
Find out what other people are saying about the "world's most unique fire pit".
How is the Solo Stove Smokeless?
First of all, is the Solo Stove actually smokeless?
Keep in mind that they claim "low smoke", not 100% smokeless, so you might still have a small amount, especially when you first light it.
And, while it might seem obvious, you have to actually follow the instructions that came with your bonfire pit if you want it to work as promised.
We did end up with a little bit of smoke during one of our bonfires, when burning some longer sticks, but the lingering smoke smell on my clothes was pretty minimal compared to your standard bonfire.
In the words of Solo Stove, here's how it works:
"Rising hot air, and the absence of oxygen created by the combustion process, pulls air through the bottom vent holes. This air movement fuels the fire at its base while also providing a boost of preheated air through the vent holes at the top of the burn chamber."
This graphic will help you visualize how it works: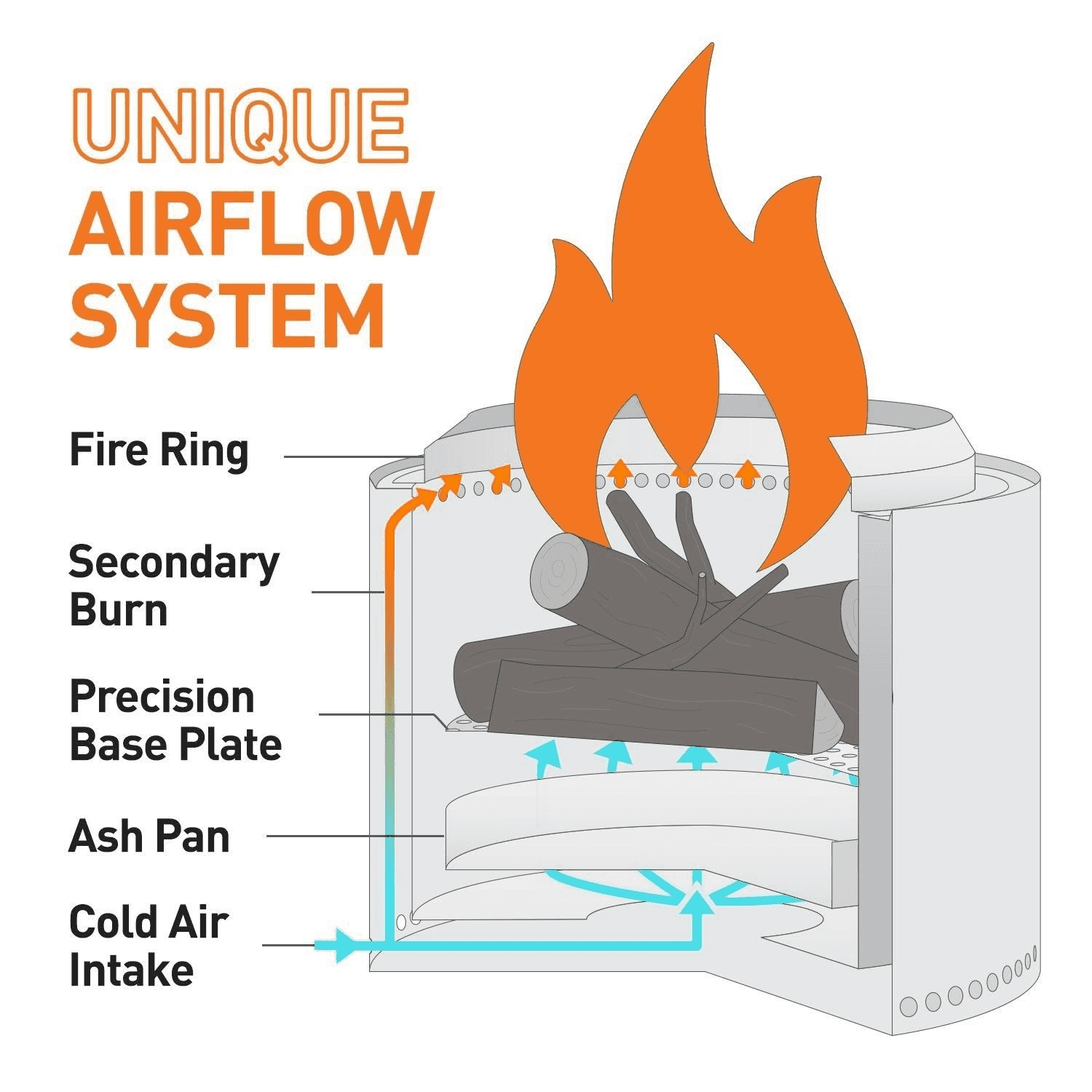 Is the Solo Stove Bonfire Big Enough?
The Solo Stove bonfire is the biggest fire pit they have made to date. But how big is it? Is it big enough for a group of your friends and family to sit around it comfortably?
And Does it Keep You Warm?
Here are the specifications:
Height: 14 inches
Width: 19.5 inches
Weight: 20 lbs
Materials: Stainless steel
Fuel: Firewood Logs
To answer your question: Yes, we have found this fire pit to be the perfect size for enjoying a bonfire with family and friends.
It produces a hotter fire than your typical fire pit, letting off quite a bit of heat, so you can sit back a little and still keep warm.
Can You Cook on a Solo Stove Bonfire?
The bonfire fire pit wasn't designed for cooking. It doesn't have prongs on it like some of the smaller models do, so if you did want to cook over it, you would want to get a grill grate like this one.
But that shouldn't stop you from roasting marshmallows or hot dogs, like you would over any other bonfire!
Here we are, roasting marshmallows over our Solo Stove bonfire:
Can I Leave My Solo Stove Outside?
You should store your bonfire pit in a cool, dry area. It comes with a carrying case, which you can use for storage (after cleaning it out, of course).
Can you leave it outside, though? Yes, you can store it outside with an appropriate weather cover.
However, if left uncovered in prolonged exposure to harsh weather, it will be more prone to rust and discoloration. So I would advise against long-term outdoor storage if you don't have a weather cover.
How Do You Clean a Solo Stove Bonfire?
Once your fire has been extinguished, let the bonfire pit cool off. When it's cool, turn it upside down and empty out the ashes.
You might want to vacuum out any lingering ashes. Solo Stove sells an ash vacuum, but I'm sure a Shop Vac would work just as well.
Finally, use a dry cloth to wipe it out if needed.
Is the Solo Stove Bonfire Worth It?
For years, I have avoided campfires as much as possible, simply because I can't stand the lingering smoky smell on my clothes. I don't have to worry about that with the Solo Stove.
Our bonfire pit has been in storage for a little while now, and I'm actually looking forward to pulling it back out and sitting around the bonfire again this summer.
The Solo Stove bonfire is for you if:
You enjoy spending time outdoors with family and friends
You love bonfires, but hate the smoke
You don't particularly enjoy the smell of smoke on your clothes
It's not for you if:
You don't like the idea of relaxing by a bonfire
You simply hate being outside
Escaping campfire smoke is a fun game to you (ha!)
So yes, if you can afford the initial investment, the Solo Stove Bonfire is absolutely worth every penny that you pay for it.
I'm looking forward to many years' worth of bonfires ahead…
…and if we have any problems with our Solo Stove bonfire fire pit? It comes with a lifetime guarantee.
Lifetime Guarantee
We warranty each and every Solo Stove product to be free of manufacturing defects, and we will replace with a new product, at our option, any Solo Stove product that is deemed defective. Solo Stove does not warrant its products against normal wear or misuse. If your Solo Stove product was damaged due to misuse, our customer service team can analyze the damage and may be able to suggest options for the customer to remedy. If your Solo Stove product is unable to be repaired after misuse, we will extend a one-time courtesy offer, allowing you the option to purchase a new Solo Stove product for 50% off of our MSRP price listed on the website, excluding web specials.
Get current Amazon pricing for the Solo Stove Bonfire Fire Pit (and take advantage of the free shipping!).
Read More:
How to Host the Perfect Backyard Bonfire Party This Summer
Custom Fire Pit Ideas for Your Outdoor Living Space