Best Places on the North Shore MN: Our Weekend Trip
This post may contain affiliate links and we may earn commissions when you make a purchase through these links (at no extra cost to you). See our disclosure policy for more details.
A Weekend in Two Harbors and Duluth, Minnesota
Planning a trip and looking for the best places on the North Shore MN?
You might consider spending a day in Two Harbors, MN and another day in Duluth, MN like we did. It can be done, but plan on cramming a lot of fun into just a couple days!
After spending a few nights in Two Harbors earlier in the summer, I knew I wanted to go back with my little family — my husband and our two-year-old daughter.
So we planned a quick family trip to the North Shore to get away and celebrate our 6th wedding anniversary.
There is so much to do and see in the area, you can't possibly do it all in one weekend, but we managed to cram a lot of fun activities into just a day and a half.
It's about a 5-hour drive to Duluth, so we arrived at our hotel late Friday night. We ended up staying at the Days Inn by Wyndham Duluth Lakewalk, since we had waited until the last minute to book a room, and it was one of the few pet-friendly options left.
It wasn't one of the nicer hotels we had stayed at, and the free continental breakfast leaves a little to be desired, but it was a place to sleep at night. We just went straight to bed so we could get up bright and early the next morning.
Pro Tip: Be sure to book your lodging well in advance because it fills up fast. Hotels in the area typically double their rates on the weekends since it's such a popular tourist destination.
Quick Stop at Burlington Bay
Saturday morning, we started out our trip to the North Shore by taking the scenic route from Duluth to Two Harbors. It was a pretty, misty morning for a scenic drive.
Our first stop was at Burlington Bay, which is just off the main highway as you're entering Two Harbors from Duluth.
This is where Kenna discovered how much fun it is to throw rocks into the water. She did that as we walked along the shore and enjoyed the cool morning view of the great lake.
If you enjoy camping, Burlington Bay has a campground where you might pitch a tent or park your camper, although it is right next to the highway so you aren't likely to get a true camping experience.
Lunch at Northshore Pizza Cafe and Coffee House
My sister-in-law and her family had just moved to Two Harbors, so we stopped to visit them and then we all went to lunch at the Northshore Pizza Cafe and Coffee House. This is a family-run, mom and pop pizza place.
We ordered a Meatsa pizza and it was one of the best pizzas I've eaten. It was also one of the greasiest (some might argue that's what makes it so good!).
It appears that they also have a bakery with an assortment of cookies, cupcakes, muffins, and more. However, we didn't try any of these items, so unfortunately I can't share an opinion one way or another.
After lunch, we stopped at Agate Bay, which you can learn a bit more about in my last post about my trip to Two Harbors. This time, we walked all the way to lighthouse and back. It felt like a long, long walk to my pregnant self!
Visit to the Great! Lakes Candy Kitchen
The next stop on our trip to the North Shore was the Great! Lakes Candy Kitchen.
Visiting this little candy shop is a must for anyone with a sweet tooth! All their candy is made the old fashioned way — from scratch and in small batches using quality ingredients.
Since the weather was warming up, we kept our selection of chocolates to a minimum, although I would have loved to have stocked up! They also have some amazing caramels and a variety of other candies as well.
We stopped at another little beach along the scenic route, where Kenna enjoyed throwing more rocks into the water. I enjoyed soaking up some sunshine as it continued to warm up.
Afternoon at Tom's Logging Camp & Trading Post
I'm going to be completely honest here. Tom's Logging Camp is a bit of a tourist trap. That said, we wanted to check it out because of the "petting zoo" we'd heard about.
Kenna seemed to enjoy the self-guided tour through the woods. You can look at the equipment the loggers used and the quarters where they stayed.
She also had a blast feeding the fish, goats, and llamas. If you decide to visit the logging camp, be sure to bring quarters — you can get a handful of animal feed out of a vending machine when you insert a quarter. I'm pretty sure we went through quite a few quarters here!
They also have a sandwich shop where you can get sandwiches, soup, and ice cream. And there is a gift shop with a variety of souvenirs.
Dinner at Emily's Eatery on Knife River
Since it was our anniversary, Dan and I left our daughter with his sister and went out to dinner. We decided on Emily's Eatery on Knife River.
It didn't disappoint! We were seated near the window, with an immediate view of the river. The restaurant itself isn't fancy; it almost feels like you're eating dinner at a friend's house.
The food and service were both great. I had the pan-seared salmon, which came with a side of rice pilaf, veggies, and lemon dill sauce. I'm not fond of dill sauce in general, but everything else tasted great.
I even tried Dan's fish (walleye) and chips, and that was also pretty amazing.
Breakfast at At Sara's Table Chester Creek Cafe
Sunday morning, we decided against the hotel breakfast and opted for a cute little cafe in Duluth called At Sara's Table Chester Creek Cafe, which is a "farm to table" restaurant.
I'd been there previously, but had forgotten how good their food was.
Of course, the prices are a little higher than you'd pay at a typical restaurant, since they use higher quality ingredients.
They have a little kids' area with toys and books so, while we waited for our food, we were able to keep Kenna entertained with various children's books. In usual toddler fashion, she wasn't really interested in the Mickey Cake we'd ordered for her, so Dan and I shared it — yum!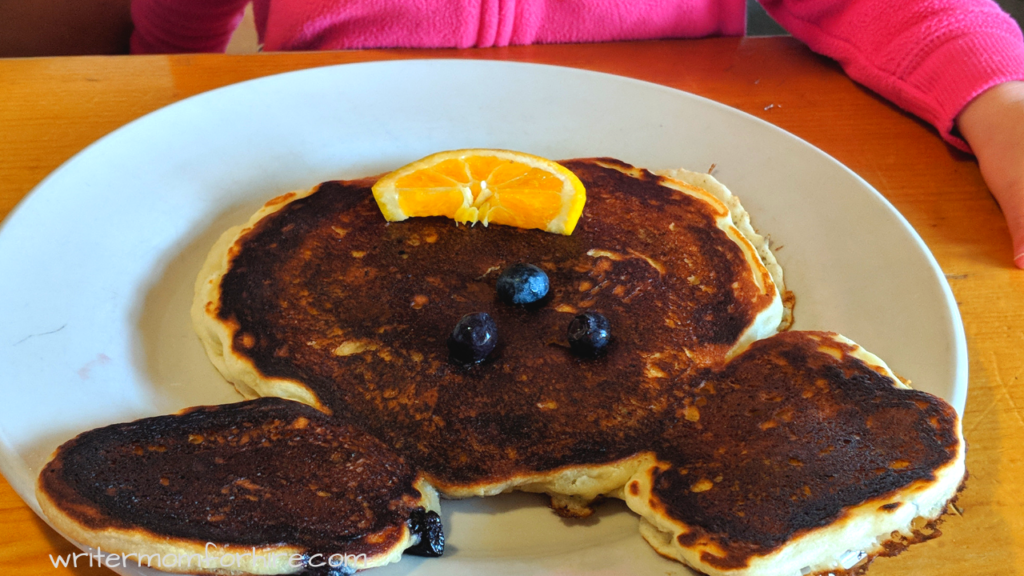 In fact, all of our food was delicious, including the coffee from their coffee bar. If you're looking for a good, healthy meal, I'd recommend checking them out when you're in Duluth.
Morning at Canal Park
Dan and I have been to Canal Park many times, but Kenna had never been there, so we decided to spend Sunday morning watching the boats pass through. She enjoyed that but, naturally, preferred throwing rocks into the water.
We did check out the museum, but there wasn't much to hold a two-year-old's interest.
Unfortunately, we weren't there at the right time of day, so we didn't get to see any ships come in. But we did get to walk on the stepping stones in this cute little fountain near Canal Park….
Takeout from Taste of Saigon
Before concluding our trip to the North Shore, we grabbed some takeout from Taste of Saigon. This is a Vietnamese restaurant that Dan and I have both been craving for a looong time.
I had ordered three entrees — one for each of us — and it also came with a huge side of white rice. Don't let the little takeout boxes fool you; there's a lot of food packed in them! Thankfully, I didn't get the egg rolls I'd originally wanted, because we couldn't even finish our entrees or rice.
That was the last stop on our trip to the North Shore of Lake Superior before heading back home. It was a short, but fun-filled weekend spent in Two Harbors and Duluth.