Outdoor Activities for the Family to Enjoy at Home This Summer
This post may contain affiliate links and we may earn commissions when you make a purchase through these links (at no extra cost to you). See our disclosure policy for more details.
Want to Do Some Fun Outdoor Activities With Family, But Not Sure What? Try These Ideas!
If you're looking for outdoor activities for the family, you're in the right place.
I'll be spending a lot of time at home this summer with my daughters, and I want to take advantage of the warm weather as much as possible. Because we live in Minnesota, this window of opportunity won't last long!
Anyway, I want to make sure that we spend time outdoors every day, weather permitting. But it's not always easy to think of things to do.
Want to get everyone outside all at once? I've put together this list of outdoor activities with family so you'll never run out of ideas for things to do outside.
(I'm sure we'll be utilizing this list at least a few times this summer!)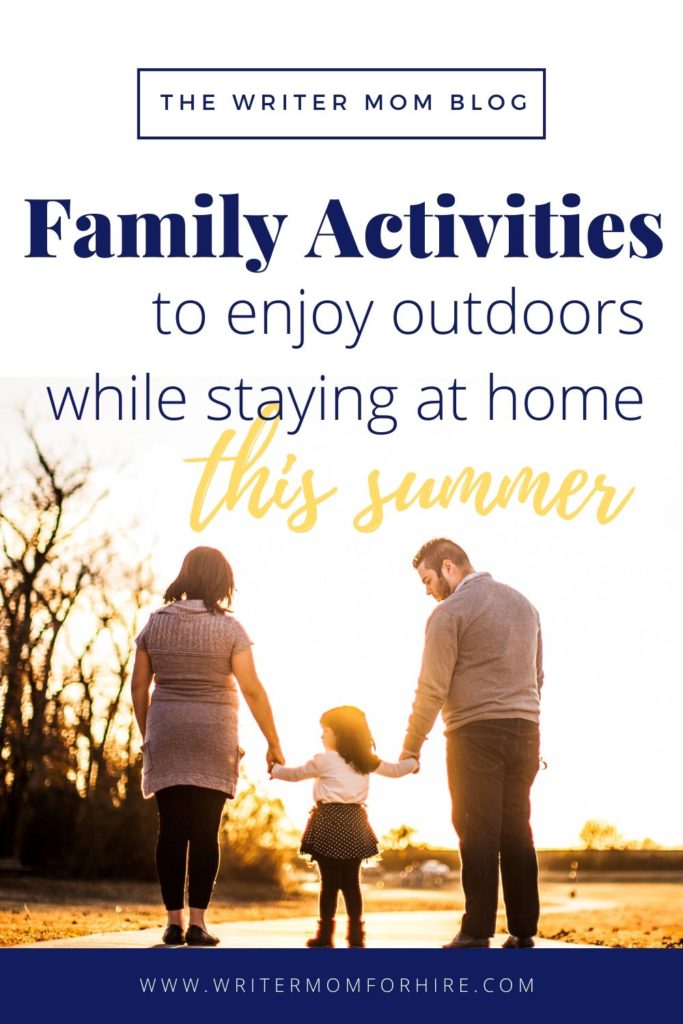 In this post, we'll cover the following categories:
Ways to cool off outside on a hot day
Bringing mealtime outdoors
Outdoor exercise ideas for the family
Educational outdoor activities for the family
Outdoor family activities for after dark
Outdoor artwork ideas for the family
Things to build together outdoors
Outdoor activities for the family without a yard
Activities to Stay Cool Outside on a Hot Day
On the hottest days of summer, it can be hard to enjoy being outdoors. But if you're starting to feel cooped up in the house, there are ways to stay cool while spending time outdoors.
Eat ice cream, smoothies, or popsicles outside.
Have a water fight.
Fill up the water table or a plastic bin and engage in water play.
Create your own splash pad at home using a sprinkler and kiddie pool.
Enjoy a cool, refreshing drink in the shade.
Bringing Mealtime Outdoors
Eat outside whenever it's nice enough to do so. You can bring any meal or snack outdoors, weather permitting, but here are a few ideas to take outdoor meals a step further this summer.
Fire up the grill and eat on the patio.
Pack a picnic basket and have a picnic in the backyard.
Cook s'mores over a portable fire pit.
Enjoy a refreshing snack or drink together on the deck.
Shuck corn together in the yard.
Pick fresh vegetables from the garden before dinner.
Outdoor Exercise Ideas for the Family
Let's not forget exercise! This is the perfect opportunity to get outside as a family and spend some quality time together while maintaining your health.
Take a walk in the sunrise or sunset.
Go jogging together in the morning, before it gets too hot.
Teach the kids how to ride a bike, rollerskate, etc.
Play outdoor games, such as tag, dodgeball, kickball, cornhole, etc.
Create an obstacle course using whatever you can find around the house or yard.
Go on a nature hike, even if it's just around the yard.
Educational Outdoor Activities for the Family
You can turn almost anything into a learning experience. Want to get the kids outside, but aren't sure what to do when you get out there? Make outdoor family time a learning experience with these educational outdoor activities for the family.
Have a scavenger hunt.
Bird watch and identify the different types of birds.
Dig in the dirt and identify the different types of bugs.
Learn about the types of plants and trees in your yard.
Sit under a tree and read (or tell) stories together.
Bring music class (and noisy instruments) outdoors.
Learn about the types of clouds while looking for familiar shapes in the sky.
Observe and discuss topics such as seasons and weather.
Use sidewalk chalk or washable sidewalk paint to learn how to write or do math equations — or to simply create artwork.
Start a nature journal.
Learn about the constellations while stargazing after dark.
Outdoor Family Activities for After Dark
If the kids are allowed to stay up past dark, there are plenty of ways to sneak in some quality outdoor family time at nighttime. Here are a few ideas for outdoor family activities after dark.
Catch fireflies.
Try to identify the sounds of nature, such as frogs, crickets, and owls.
Spread a blanket over the ground and look at the stars.
Watch for shooting stars.
Play flashlight tag after dark.
Snuggle up around a smokeless bonfire.
Sit on the porch and enjoy a hot drink in the morning or evening, when it's not so hot.
Love bonfires, but hate the smoke? Read my review of the Solo Stove bonfire fire pit to learn more.
Outdoor Art & Craft Ideas for the Family
Tap into your creative sides by taking your arts and crafts time outside. You can spend this time either creating one big masterpiece or working on individual projects side-by-side — all while enjoying some fresh air and quality family time together.
Create chalk art with sidewalk chalk.
Bring the paints and some paper or a canvas outside.
Collect items from nature to create a work of art.
Paint items from nature, such as rocks or pine cones, to use as home decor.
Collect leaves and use them to make crayon rubbings.
Sketch something that is found outdoors.
Things to Build Together Outdoors
Does your family like to get dirty and work with their hands? There are lots of things you can build together!
Build a playhouse or tree fort.
Make a sand (or mud) castle.
Plant a garden (or container garden) together.
Build a fire pit.
Make a sandbox.
Build a birdhouse or butterfly house.
Make and paint your own cornhole boards.
Design and create your own backyard oasis.
Outdoor Activities for the Family Without a Yard
Do you live in an apartment or have a home with little to no yard? If you have a deck or a very small yard, here are some outdoor activities for your family to enjoy together this summer.
Bring indoor games outside.
Go for a walk or bike ride.
Count the number of cars (or dogs, people, etc.) that go by.
Identify shapes in the clouds or stargaze after dark.
Plant a container garden or pot flowers on the deck.
Blow bubbles together.
Bring mealtime to the patio table.
Enjoy a treat or cold drink while relaxing on patio chairs.
Which of these favorite outdoor activities for the family will you be doing this summer?
Recommended reading:
50 Things to Do in Minnesota in the Summer
Summer Safety Activities for Kids
Benefits of Outdoor Time for Kids