Best Advice for a New Parent: Readers Share Their Favorite Parenting Tips
This post may contain affiliate links and we may earn commissions when you make a purchase through these links (at no extra cost to you). See our disclosure policy for more details.
Advice and "Words of Wisdom" for New Parents (From People Who Really Get It)
For today's post, some of my readers have shared some of their best advice for a new parent.
Whether you have a newborn or you're going to have one soon, it's always comforting to hear the words of wisdom from people who have been there.
It's nice to know what to expect, and to know that you're not alone.
This is going to be a long one, so let's jump right in!
Below, I'll share my best advice for a new parent, plus some additional tips for parents of a newborn.
In this article, you'll learn:
My best advice for a new parent
Sleep tips for new moms and dads
Tips for breastfeeding moms of newborns
Self-care tips for new parents
Tips for parents with a toddler and a newborn
My Best Advice for a New Parent
People will offer all kinds of new parent advice when you're expecting your first baby, but here's my best advice for you: Take it with a grain of salt.
They mean well, of course, but ultimately, you will figure out what works best for you.
What Kind of Parent Do You Want to Be?
Before reading any books on parenting, do your research and make sure they align with your belief system — or, with the type of parent you want to be.
Otherwise, you'll end up frustrated because you're trying to follow their advice, and it's just not working. Here's an example.
After the birth of my first daughter, I attempted to read a book with advice for new parents, and only made it halfway through.
The general idea was that your daily life shouldn't change just because you have a new baby, and that every baby should be on the "eat, play, sleep" routine.
Deep down, I knew this wasn't going to work for us, but I tried it out anyway.
I'm guessing that the author didn't exclusively breastfeed their baby (I don't even remember if it was a man or woman who wrote the book).
The truth is, this routine doesn't work for most families who exclusively breastfeed their babies. And if it works for your baby? Great!
After joining countless online communities that are centered around breastfeeding, co-sleeping, and attachment parenting, I have learned that it doesn't work for people who parent like we do.
(My babies prefer to fall asleep while nursing. Yes, it is biologically normal. And yes, as they grow up, they do develop the capability to fall asleep on their own, I promise!)
What Can You Take Away From This Story?
If something isn't working for you, pivot and do what does work for your family.
Now, let me get off my soap box and share some of the awesome new parent advice from my readers!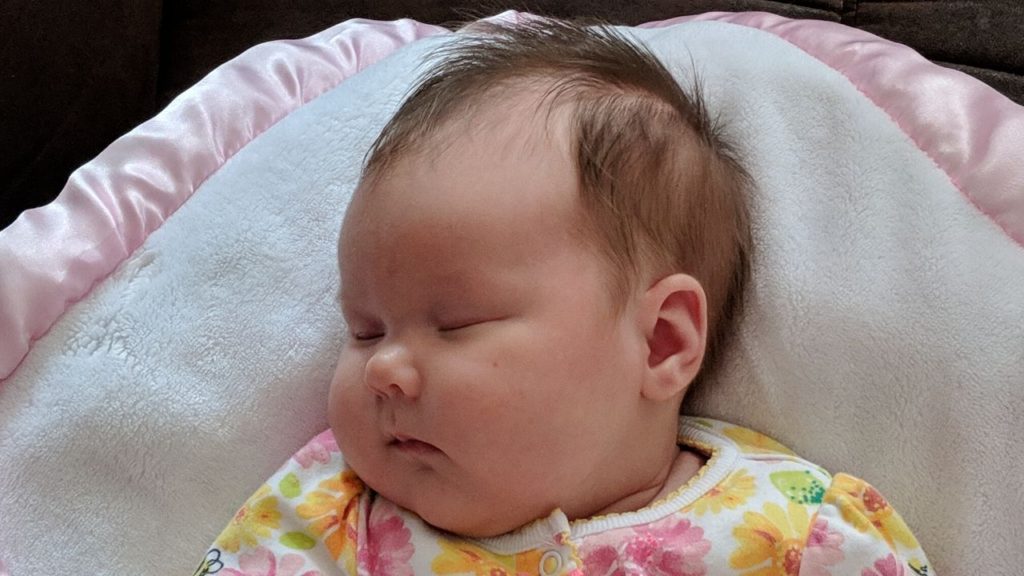 Sleep Tips for New Moms and Dads
Sleep can be elusive when you have a newborn.
I remember the first few nights at home with my daughters. I was way too anxious to be able to sleep! Every little movement caught my attention.
And even though they were in the same room, sleeping right next to me, I kept checking to make sure they were breathing.
The first few nights can be hard but, I promise, it gets easier!
Some babies start sleeping through the night early on, while many don't for the first couple years. Some older children — and even some of us adults — wake up at some point during the night.
What if your baby sleeps through the night for the first time, but you can't sleep because you're feeling a little anxious?
Here's a bit of advice for the sleep-deprived new parent:
"My major accomplishment came when my babes slept the night on their own. However, I was so scared to let them go all night and I would wake up to watch them breathe. A video monitor with night vision solved all of those problems and my sweet dreams came back!" -Brandi Eley, Campers and Campfires
I totally agree — with baby sleeping soundly in his or her own room, having a a video baby monitor nearby is the only way I would be able to sleep, too.
If you're a sleep deprived new parent, here are ten ways you can feel a little more rested.
Tips for Breastfeeding Moms of Newborns
At my daughter's 18 month well child check, I mentioned to the doctor that Raelyn was still nursing. She then asked how long I had breastfed Kenna.
She was impressed to learn that Kenna was over 2.5 years old when our breastfeeding journey ended. "No wonder they're so healthy!" she said.
Breastfeeding is awesome, no doubt, but that doesn't mean it's easy.
The World Health Organization recommends exclusively breastfeeding for the first six months, and nursing your baby until two years of age. That is, as long as it's mutually agreeable between both mom and baby.
If your baby only gets breastmilk for the first couple months, you did great!
"Breastfeeding can be really hard but it is so worth it especially in the first two months to get that liquid gold into your babies mouths. There are so many nutrients and antibodies in those little drops!" -Lisa Manderino, Planning Away
Another tip for new parents if you really want to stick it out for the long run:
So many new moms give up breastfeeding because they don't have the resources or a strong support system in place.
"I always say if you can make it through the first 3-4 weeks breastfeeding, you can make it a long time! Just stick with it and find support from other moms who have done it." -Emily Ackerman, A Pinch of Adventure
Absolutely! You might not know a single person who has been there, but there are numerous support groups — even virtual groups on Facebook, for example — that you can join for solidarity.
Related: 5 Must-Have Breastfeeding Products for Nursing Moms
Advice for a New Parent With a Toddler or Older Children at Home
It's so important to include older siblings and involve them in any way you can.
"I let our oldest daughter (who was a toddler at the time) be with me whenever I was nursing, let her snuggle up next to me and I read to her while baby was eating. I also would let her ask any questions about nursing/pumping/diapers/bath time and any other topics she may want to know about." -Sara Reed
For the first few months after our second baby was born, I was tandem feeding both of the girls. Not every time, thankfully!
But every once in a while both of the girls were able to nurse together, which I believe helped strengthen their sibling bond and avoid some of the jealousy that might have cropped up.
Thoughts and tips for involving your partner and considering their feelings during this time…
On the other hand, when one parent is exclusively feeding the new baby, it can make the other parent feel a little left out.
"May I add…after having twins… stop calling it liquid gold. Breast milk is amazing no argument. But at some point you need to sleep and be coherent. One dad on my twin mama group fell asleep while holding one twin and the baby slipped off his lap and landed between the two couches and suffocated to death while he slept.
If you don't have enough sleep take a nap, if you aren't making enough milk go buy formula.
Be open minded. Think about how your (my…because this was me) need to nurse prevents your partner from taking the baby anywhere without you. Nursing is meant for mother and babies but it sure does leave men feeling like they are just there to clean up the poop…
Make sure to think about your partner and how selfless they are being during your journey to health and pay back that love and kindness when you can!" -Chaka Blanford, Chaka Blanford the Northern Doe
I'll add that you should absolutely ask your partner how they're feeling about everything. Some might feel entirely left out, while others are perfectly okay with leaving the feeding up to you. But you won't know unless you ask.
Related: How to Discreetly Breastfeed in Public Without a Nursing Cover
Self-Care Tips for New Parents
When you have a new baby to take care of, you might find that you are neglecting yourself. Having a support system is a crucial part of self care when you have a new baby, and unfortunately, not every new parent has one.
Advice on Seeking Emotional Support as a New Parent
"My best advice.. emotional support.. don't be afraid to ask for help.." -Holly Bird, Holly's Bird Nest
Oftentimes, you have to ask for help, and it's okay to ask. Not everyone knows when you need emotional support.
A couple places you can look for support:
"Brand new parents my best advice is: find a friend (or a support group) to talk to. My hospital had Moms Morning Out which combined lactation service and a postpartum support group as the leader was a Lactation consultant.
I had so many questions and so many of us were going through the same stages together that we could talk about it all and get reassurance.
Also, I highly recommend ECFE for the same reason! They generally have classes starting at newborn age and go up through toddler and even to age 3 with "parent time" where you learn about different topics and get to talk about them with other parents who are there right with you at that time.
Some parents have older kids and can help with ideas that have worked for them but don't work for their current child. The teachers are a wealth of information and the parents can learn ways to engage their infants, and kids start to learn to interact with each other at an early age! It's another really great way to find support, and Dads are very welcome to attend too!!" -Sara Reed
Advice on having visitors over when you have a brand new baby…
Hopefully, you will receive offers of help from friends and family after having a new baby. Take it!
"Take the help whenever it is offered! If you're allowing visitors once you're back at home, just put out a bowl of fruit and bottles of water (don't feel the need to entertain or wine/dine)." -Danielle Clapp Ardizzone, The Dancing Dance Mom
Also, people might offer to help out, and you should certainly take it. But you might have to offer a little direction, because they don't always know what you need help with!
Let them know if you need someone to hold the baby while you take a nap, or if you just need help preparing food for your toddler (or yourself).
Tips for Parents With a Toddler and a Newborn
Bringing a new baby home when you already have a toddler or older children might seem overwhelming, or maybe it's no big deal to you.
A fun idea for when your new baby has older siblings:
"The best advice I ever got as a soon to be Mother of two was this: the day you bring baby home, bring the big sibling to the hospital and you all ride home together!
Another thing we did was get big sister a special gift from the baby, and big sister made baby a welcome card!" -Sara Reed
Tips for making everything run a little more smoothly:
So, how do you figure out the logistics of caring for multiple children at different ages and stages?
I know this is something many new moms and dads wonder when they're expecting a new baby, but somehow, we manage to figure it out!
"As a mom of kids who are 15 months apart (I had a 2 1/2 year old, 15 month old and a newborn) it's so important to try to get them all on the same nap/sleep schedule. I needed that little bit of alone time every afternoon.
Also find a great double stroller. A friend let us borrow their Graco double stroller (I don't think they make this model anymore) and it actually fit all 3 of them perfectly. I could easily get out of the house and go on a walk by myself with all 3 of them.
Do some meal prep on the weekend and keep your meals super simple during this time. Things get easier when you don't have a newborn that depends on you for everything.
Teach your toddler to help in whatever ways they can. My 2 1/2 year old loved bringing me a diaper or wipes. He loved helping me find the pacifier when it was missing. Don't underestimate what young ones can do to help, and this is the perfect age to start training them because they're usually so eager and willing to help out and be moms special helper." -Sara Wilson, Seek Discover Learn
Agreed, a double or triple stroller is nice to have whether you're going for a walk or you're on a family outing and have two or three kiddos that tire easily.
And speaking from experience, two and three year olds love to feel like they're needed! Kenna was my little helper after her baby sister was born.
Related: Newborn Essentials: List of Things to Buy Before Baby Arrives
Final Thoughts
My final piece of advice is to enjoy the newborn stage, even when it seems never-ending, and snuggle your baby as much as possible.
You will never regret holding your baby!
The "fourth trimester" was always the hardest stage, in my experience, but remember: It won't last forever.
A couple of my readers shared the same advice for new parents…
"Enjoy every moment as they will never be repeated." -Suzan Ferreira, It's My Sustainable Life
"Best advice ever is ENJOY! Relish these moments. Connect because they grow up too fast." -Karie Spackman-Babbitt, Hey There Bliss
I couldn't agree more.
Congratulations on your new addition, and enjoy! I hope you learned something new from all this wonderful advice my readers shared for you as a new parent.
Read more:
Help! I Can't Put My Baby Down Without Her Crying
Does Babywearing Count as Tummy Time?
Help! My Teething Baby Won't Sleep Unless Held